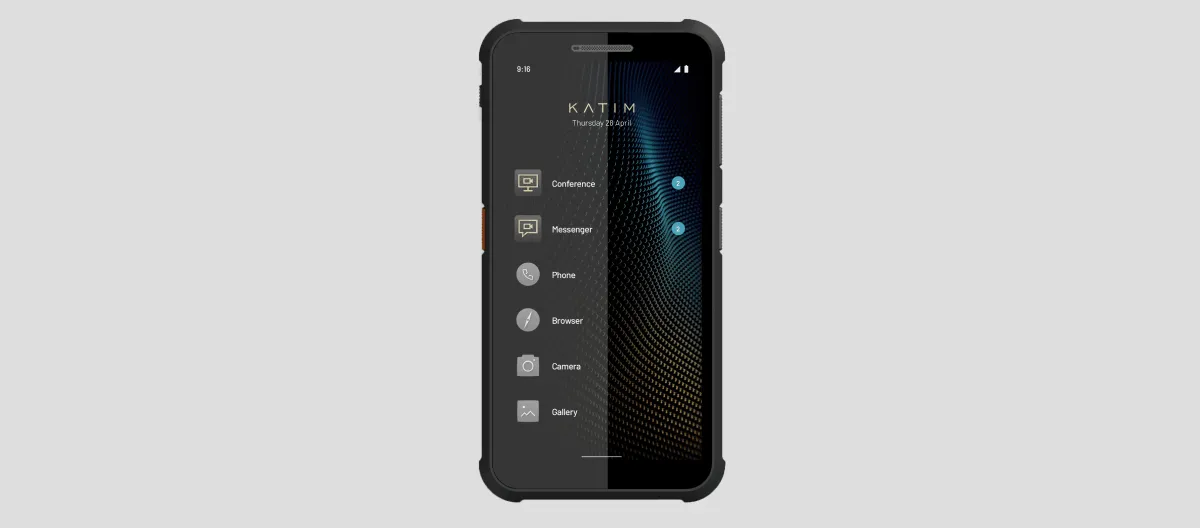 KATIM Ruggedised Ultra-Secure Endpoint is an integrated ultra-secure system for critical communication protection in the harshest and most severe field conditions without compromise. Tailored to the needs of nations leaders, governments, and highly demanding customers, KATIM Ruggidised Endpoint provides on-the-go protection for top-secret data and communication.
KATIM Ruggedised Ultra-Secure Endpoint features the complete-protected, tamper-proof, ultra-rugged KATIM R01 smartphone, secure operating system software hosting KATIM Secure Suite applications.
KATIM R01 is tough. KATIM R01 has a rugged MIL-STD 810G certified design with the strength of five layers of a hardened case to withstand drops, vibration, water, and dust. KATIM R01 is even tougher inside, featuring a unique, most advanced tamper protection system so all data in the device stays safe.
The KATIM Secure Suite consists of applications to secure data messaging, voice communication, video conferencing, and file transfer, and deploys a multi-layered, end-to-end cryptography model that is similar to having a primary and secondary parachute for a skydiver.
To provide ultra-secure holistic hardware and software endpoint management for the KATIMX2 phone through the entire lifetime, a new bespoke Mobile Device Management solution was designed featuring a single integrated admin UI.