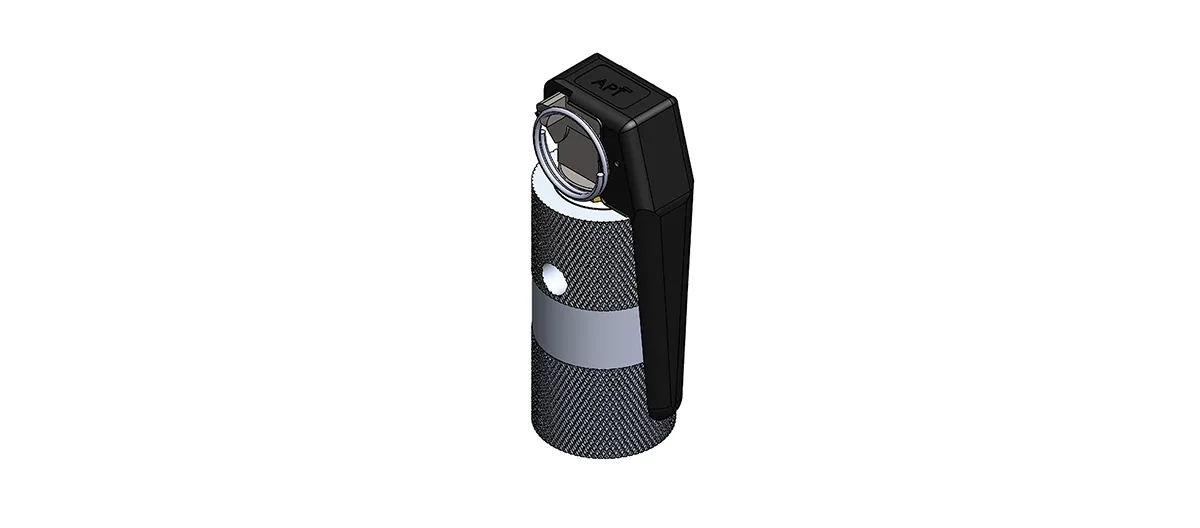 Effect
Side Vent & Bottom Ejected
Light-weight; Side & Bottom Vent; Fly-off Lever type; Safety Pin; can be carried in pouch.
Colours: Blue, Yellow, Red, Green, White, Gray, Orange, Purple
1st Delay: 1.5 ± 0.5 seconds
Red smoke charge weight: around 15 g
Sound level: 170 dB.
NEQ: 18 g approx.
Flash intensity: 5,000,000 cd approx.
The Sound & Flash 1 Bang and Coloured Smoke Hand Grenade is a hybrid grenade delivering 3 different effects (loud sound, intense light and coloured smoke) for temporary incapacitation of hostile groups whilst providing signaling to friendly units, during military and law enforcement operations. The grenade is initiated by a fly off lever action. When activated, and after a precisely defined delay time, the grenade will produce, through side venting, a loud report (bang) and intense light discharge, followed by coloured smoke emission (bottom vented) for approximately 15 seconds. This grenade is designed for outdoor application in riot control and training scenarios.
PACKING INFORMATION
10 Grenades packed in a M2A1 (Metal box);
100 M2A1 boxes packed on 1 Pallet.
ANNUAL PRODUCTION CAPACITY 
350,000 pcs / 8h Shift